August 18th, 2009
by Josh Neufeld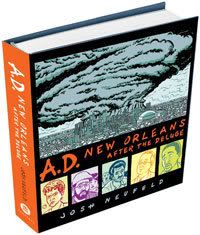 At long last, today, August 18, A.D.: New Orleans After the Deluge hits the bookstore shelves! Look for it at your local retailer, or buy it online.
In advance of the book, there's been a flurry of press coverage, including reviews of A.D. in the Miami Herald, the Boston Globe, the Wall Street Journal online, the Austin Chronicle, the San Francisco Chronicle, Newsweek, the Mobile Press-Register, New York magazine, the New York Post (!), Kirkus Reviews, and Publishers Weekly (a starred review). Blogs have been picking up on the excitement as well, with places like Flavorpill's "FlavorWire," MTV's "SplashPage," TakePart, WebComicOverlook, Deckfight, ICv2, and PopTheology covering the book.
Josh has also been busy talking to folks about A.D., Hurricane Katrina, and New Orleans, with interviews in the Austin American-Statesman, The Comics Reporter, Graphic Novel Reporter, NYC Graphic Novelists, BookBanter, and KAZI Community Radio in Austin, Texas.
And there's much more coverage in the works! We're very excited, and so grateful for all the attention the book—and by extension the book's characters—and the story of Hurricane Katrina and New Orleans—is getting.
Josh's book tour starts Wednesday, with a stop in Austin, and then on to Houston, and of course New Orleans, where he'll be celebrating A.D.'s release with some of the book's subjects, as well as SMITH editor Larry Smith. Then we return to NYC for the Idlewild Books release party/benefit. If you're going to be in either NOLA or NYC on the respective dates, here are links to the two parties (where you'll be asked to RSVP):
And once again here's the entire tour (with new dates & venues still being added)…
We hope you like the A.D. hardcover—if you do, please spread the word to friends, family, book groups, and those with a special interest in New Orleans and the Gulf Coast region. We look forward to seeing you at one or more of the events!